Posted by
admin
on Apr 5, 2014 in
Top Stories
|
0 comments
Johnny Depp Is Wearing Amber Heard's Engagement Ring
PeachTree3 In an amusing turn of events, Johnny Depp is wearing Amber Heard's engagement ring. He revealed the ring on the Late Show recently with David Letterman on April 3, 2014 in an interview with the long time host.
The well known star of such movies as The Pirates Of The Caribbean and Fear And Loathing In Las Vegas gave a direct confirmation of the fact that he was engaged while sitting in the guest chair on Letterman. Letterman got right into it, exclaiming to Depp, "You have an engagement ring!"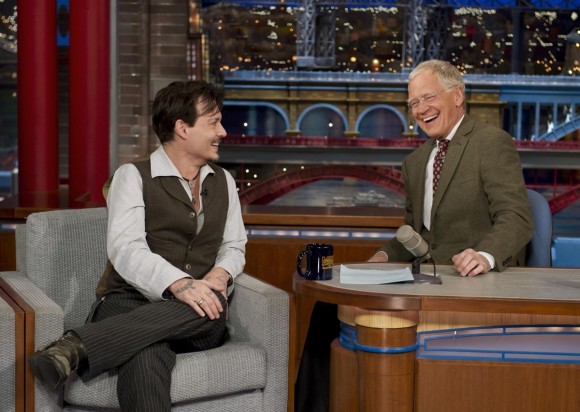 "I do, I have a female engagement ring on my finger," Depp replied, twisting the diamond ring so that everyone could see it. He explained that it was too big for his girlfriend.
"You're getting married. It's not typical for a man to wear an engagement ring, is it?" Dave asked Johnny. Johnny confirmed his engagement to the actress and admitted that it wasn't typical for men to wear female jewellery, no.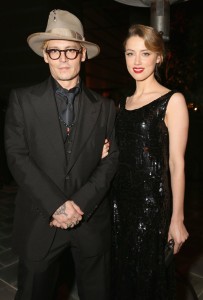 Depp has been dating actress Amber Heard for some time now.
The two worked together on the movie The Rum Diaries. Heard is 27 and they started dating shortly after the movie. Depp announced his separation from Vanessa Paradis, his long time partner and mother of his children in June of 2012. He has two children with Vanessa. Letterman threw up a picture of Amber with her father, to which Johnny said he was the closest man to Hunter S. Thompson he's ever met. Letterman agreed, saying "Birds of a feather, huh?"
"So the ring is too large for her but it fit you perfectly," Dave said. Johnny agreed and told Dave that's why he put it on. He also joked that someone's ring size is no indication of other things.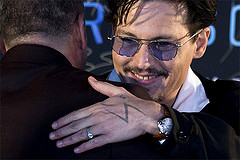 Johnny explains that Amber has the other engagement ring, which actually fits her finger. Dave told Depp that he bets that the actor gets a lot of comments for wearing a woman's ring. After all, Johnny Depp is known for being unusual but this is a little out of the ordinary.
"Actually I don't. I think people are scared to comment!" Depp joked to Letterman, who laughed.
"Why? Why is a grown man wearing a woman's engagement ring?" Depp poked fun at himself. Letterman said it was fine for a man to wear it. Depp explained that ultimately he wore it because it fit and he's been wearing it ever since. Depp is 50 and is from all accounts deeply in love with his new flame.